DOD Release Aug 22, 2006 
Marine Cpl. Adam A. Galvez 
Died August 20, 2006 Serving During Operation Iraqi Freedom
21, of Salt Lake City; assigned to 3rd Light Armored Reconnaissance Battalion, 1st Marine Division, I Marine Expeditionary Force, Twentynine Palms, Calif.; killed Aug. 20 while conducting combat operations in Rawah, Iraq. Also killed was Lance Cpl. Randy L. Newman
---
Utah Marine Killed in Combat in Iraq
KSL News Amanda Butterfield Reporting
Published Aug 22, 2006
Twenty-one-year old Marine Corporal Adam Galvez was killed in Iraq's volatile Anbar Province, along with another Marine and a Navy Corpsman Sunday.
It just so happens, Amanda Butterfield was in California when Adam officially became a Marine. Now, 20-months later, she met with the Valdez family again.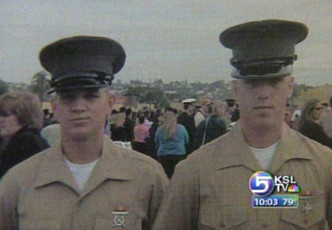 When Adam Galvez became a United States Marine, it was the proudest moment of his family's life. But when two Marines came knocking on the their door this Sunday, it was one of the worst.
Amy Galvez, Mother: "Well you know what it is, no question what it is."
Amy Galvez was hoping there was some kind of mix-up when two men in uniform were at her door, telling her Adam Galvez, her 21-year old son, was killed in battle.
Amy Galvez: "I had just talked to him the day before, so you hope there' s a mistake, but of course there's not."
Adam was riding in an armored vehicle when it triggered an explosive buried in the ground.
Tony Galvez, Father: "He took the brunt of the explosion. The explosion killed him, another marine and a navy corpman."
It was less then two years ago Adam became a Marine. He didn't do it alone, he did it with his best friend, Robert Clark.
Adam Galvez, U.S. Marine Corps, January 2005: "We've played baseball since we were young, went to school, did everything together."
Robert Clark, U.S. Marine Corps, January 2005: "We were really lonely when we first got here, and it was nice to have someone who cared and who could get you through everything.
With his proud family watching, Adam and Robert were pinned with the eagle, globe and anchor, the sign of the Marine Corps.
Amy Galvez: "He's a marine now, trained, capable. I have a lot of confidence in him, he's a wonderful young man."
And that's how he will be remembered.
Tony Galvez: "As a patriot, hero, marine."
As for Robert, or Robbie as the family knows him, he's stationed at Camp Pendleton, and he will escort Adam's body back to Salt Lake City.
Tony Galvez: "They went in together, and Robbie's bringing him home."
Adam's body is expected back home later this week with funeral services sometime the beginning of next week.
On August tenth- Galvez attended funeral services for four marines in his battalion. Galvez's family says a truck with bombs exploded next to his quarters. The building collapsed on Galvez and buried him alive. He got free and tried to dig out his friends, but it was too late.
Galvez was hurt but insisted on staying on regular duty.
When Amy Galvez heard of her son's death, she was emailing information about a "Support the Troops" rally while President Bush is here.
With anti-war activists planning to protest during the Bush visit, Amy Galvez says the most important thing she wants to come of her son's death is for people to go out and support the troops.
Amy Galvez: "I don't want Cindy Sheehan and Rocky Anderson to be the only voices people hear."
Tony Galvez: "You can't say you support the troops but don't support the war."
That rally will be at Liberty Park when the president arrives.
---
Utah Marine killed in Iraq
A 21-year-old Marine from Utah was killed Sunday alongside a fellow Marine while conducting combat operations in the volatile Al Anbar province in Iraq.
Both Marines were members of the 3rd Light Armored Reconnaissance Battalion in Twentynine Palms, Calif.
Adam Galvez, a mechanic who learned to turn wrenches when he was boy in Salt Lake City, aided in the upkeep of Humvees, 7-ton trucks and Light Armored Vehicles, all of which take a hard beating on the region's often treacherous roads.
"I bought a car from a junkyard and got it running before I joined the Corps," Galvez told a Marine Corps combat correspondant in April. 
"I have tinkered with cars all my life." 
Galvez had been was injured in a suicide bombing that killed four Marines last month in Rawah, Iraq. No further details on the attack that claimed his life were immediately available.
---
Fallen Marine buried with dignity, respect
Threatened protest by extremists fails to materialize
By Matthew D. LaPlante 
The Salt Lake TribunePublished August 31, 2006 1:13 am
MURRAY - Bruce Clements stood at the center of a motley group of motorcyclists, cigarette clasped between the knuckles of his hand, and choked through an emotional salute to his fellow riders. 
Most of those assembled in the hardware store parking lot hadn't ridden with Clements before. And many didn't know they were going to ride with the white-bearded ride captain until early that same morning. 
That's when the riders, checking e-mail accounts and home answering machines, learned that an extremist Christian sect had promised to protest at Wednesday's funeral for Adam Galvez, who was killed in Iraq on Aug. 20 when a roadside bomb exploded near his Humvee in the Al Anbar province. 
The advertised protest never materialized. 
But it mattered little to those who gathered to help Clements render honors to the family of the slain Marine. 
"This isn't something I could refuse to do," said Steve Taylor as he stood, American flag in hand, beside his Suzuki Intruder. "This is not that much of a sacrifice for any of us compared to what this family has been through." 
Down the row of motorcycles from Taylor, Steve Thomas stared down at the street and wondered how he would have dealt with the possibility of protesters showing up to disrupt the funeral of his son, Brandon, who died in Iraq in May, 2005. 
"When I saw the Web site and learned what this group was all about, I knew I had to be a part of this," said Thomas, who had just returned from a 2,500-mile ride on his Honda Goldwing. 
Brandon Thomas, a thrill seeker who went to Iraq as a security contractor when he learned his National Guard special forces group had no plans to deploy, rode a Honda Magna. "I think he would be riding with us," Steve Thomas said. "In fact, I think he is." 
The riders stood watch outside the Murray church where Galvez was honored as, inside, family members recalled a young man who was driven to do the right thing. 
Gov. Jon Huntsman Jr., and Sens. Orrin Hatch and Bob Bennett each took a few moments to thank Galvez's family for their sacrifice and devotion to the cause for which their son died. Even while grieving for their son, Amy and Tony Galvez have been outspoken advocates of the war in Iraq - a factor some opined may have resulted in their listing on the Web site of an extremist church from Topeka, Kan., whose members believe God is punishing U.S. troops for their nation's tolerance toward homosexuality. 
Until the night before the funeral, Clements' group, the Patriot Riders, had expected a ride devoid of confrontation. 
Though the national group was established, in part, to protect families of fallen service members from harassment by the Topeka church, there had never been a protest in Utah. 
The last funeral, held in April, drew a few dozen riders. 
"I can't tell you how much it means to me that so many of you turned out this morning," Clements had told the nearly 100 riders gathered that morning in the hardware store parking lot. 
But it meant even more to Adam Galvez' family and friends. 
Matt Gomez choked back tears as he looked over the hearse carrying his friend's flag-draped coffin to where the riders were lined up, holding American flags. 
"What these protesters have threatened to do, you know, we fight for the right for them to do that," said Gomez, a Marine gunnery sergeant who served with Galvez in 29 Palms, Calif. "But for these people to take time to do something like this, to come together like this for Adam and his family, what an honor."